Central Reservations
087 820 5974
Book a room
Book Now
Trip Advisor
Facebook
Twitter
South of Africa is defined by its unique African Spaces. And it offers bespoke and Secret Places.
There's a fresh new force in the hospitality industry. South of Africa is a unique group of hotels and guesthouses offering distinctive experiences through its 17 establishments in two of South Africa's most popular tourism destinations: Limpopo and the Western Cape.
What distinguishes South of Africa from other stereotypical hotel chains is its focus on catering for the needs of individuals. Whether guests desire the sought-after luxury of a five-star establishment, or comfortable, affordable accommodation, each of the properties in our portfolio has its own identity, true to the areas in which they are located.
South of Africa's property portfolio offers both catered and self-catering accommodation that ranges from standard/budget, to Deluxe and Superior Luxury establishments. Discover the African Spaces and Secret Places that offer guests the opportunity to experience the dream.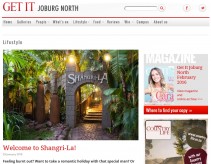 GetIt Joburg North reviews Shangri-La
The following article was published by GetIt Joburg North on 25 Janaury 2016. Welcome to Shangri-La! Feeling burnt out? Want to take a romantic holiday with that special man? Or maybe you just want some solid me-time. Well, welcome to the 4-star Shangri-La Country Hotel & Spa, a paradise escape … See more >
January Summer Packages
Still in the holiday spirit?  Head on over to select South of Africa properties and enjoy their great Summer Packages valid until 31 January 2016.  Visit our SPECIAL OFFERS page for more information or call 087 820 5999 to book our offers.
Happy New Year!
South of Africa wishes one and all a prosperous 2016.  We look forward to being of service to you during the year ahead and are excited at the prospect of making magical memories with you.  Happy New Year!
Merry Christmas
South of Africa wishes all its guests and business associates a Merry Christmas!  May you have a wonderful day with your loved ones.