Make Contact
Tel: 022 752 2044
or 087 820 5999

Book a room
Book Now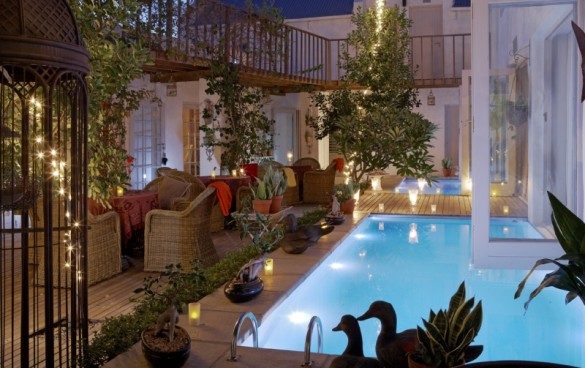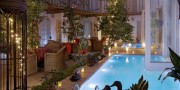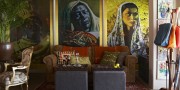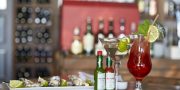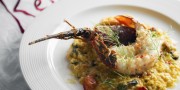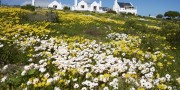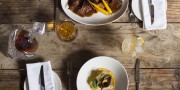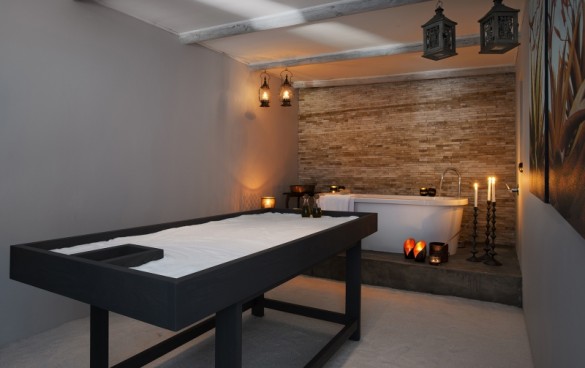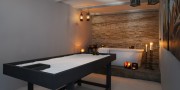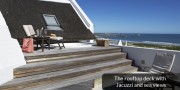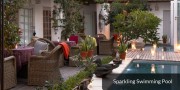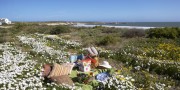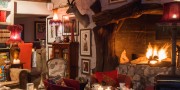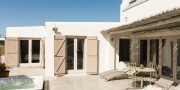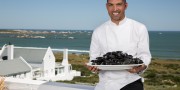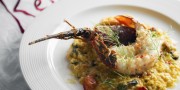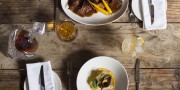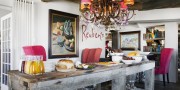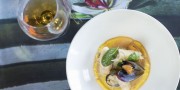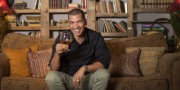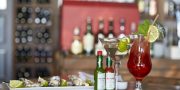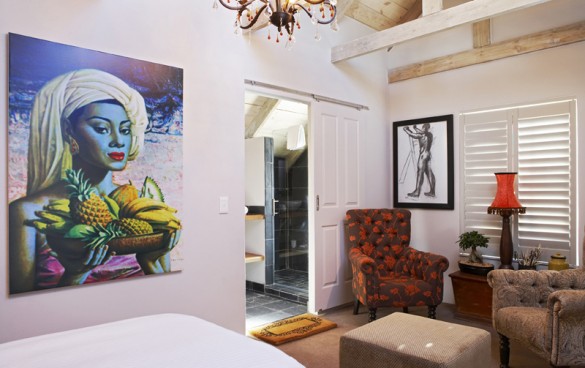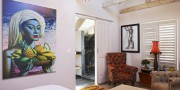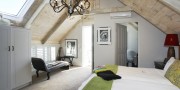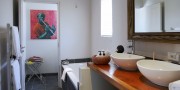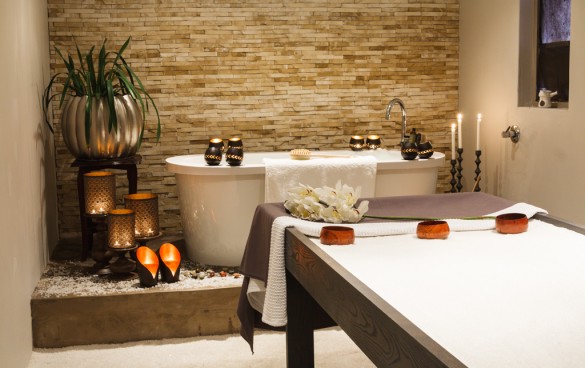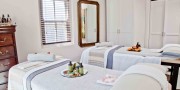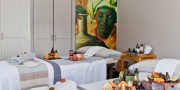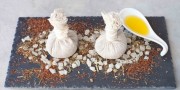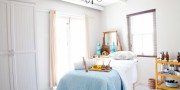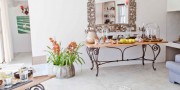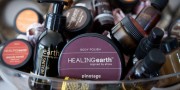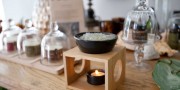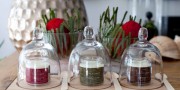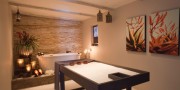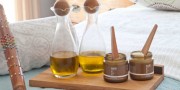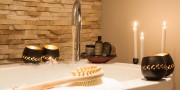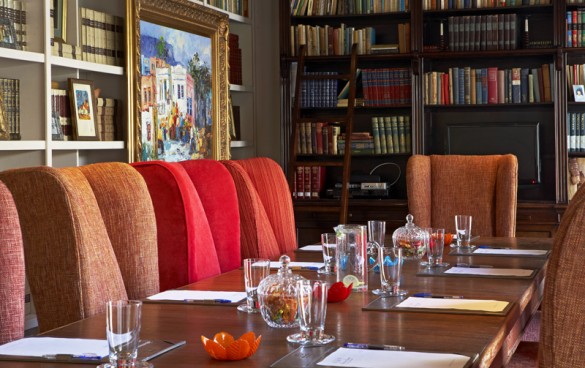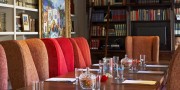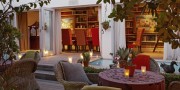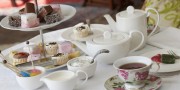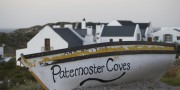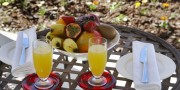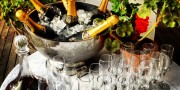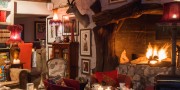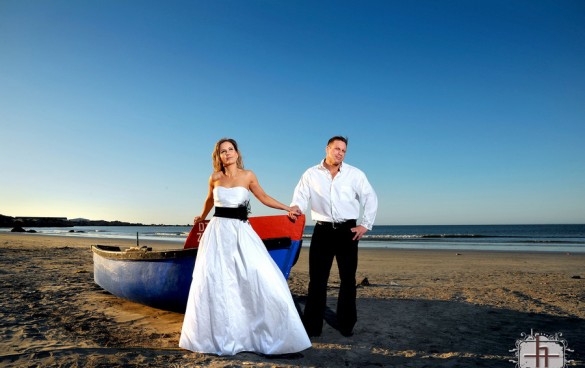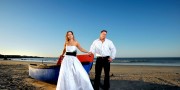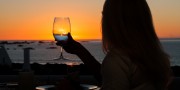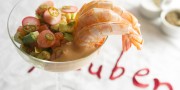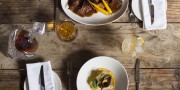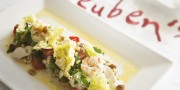 Abalone House & Spa, Paternoster
The luxurious five-star Abalone House & Spa effortlessly blends old world elegance with eclectic decadence in the quaint seaside village of Paternoster on the Cape West Coast.
Situated 160km north of Cape Town, Paternoster has its own distinctive beauty, with its unspoilt shimmering white beaches, rocky outcrops, turquoise waters of the Atlantic and indigenous fynbos. Whitewashed fishermen's houses, blue shutters, colourful fishing boats scattered on the beach and boat masts tinkling in the breeze create an idyllic setting for this unique Boutique Hotel. A 90-minute drive from Cape Town, Abalone House & Spa offers city-weary dwellers and discerning travellers an unashamedly opulent beachside escape, where extravagance and guest comforts take precedence. Set amid indigenous gardens, an air of quirky decadence pervades this sophisticated haven with its ten luxurious suites.
Lavishly designed with luxurious bohemian decor by Cape Town interior designer David Strauss, Abalone House & Spa delights with its grandeur, eclectic visual tapestry and divine cuisine.
Flamboyant layers of lived-in luxury include lovingly restored antiques, treasured memorabilia and objets d'art from the owners' personal collection that share the welcoming spaces beside crystal chandeliers, wooden ceilings, modern furnishings and old silverware.
Inspired by the vibrant works of Artist Vladimir Tretchikoff, every area of this West Coast Boutique Guesthouse reflects an elegant opulence, with French-style doors and richly hued Persian rugs adorning stone floors. The signature Tretchikoff wall prints make a playfully eccentric style statement amid a flurry of jewel coloured fabrics, furnishings and African ornaments. Abalone House & Spa is also the perfect place for small conferences and intimate weddings.
The outside areas of Abalone House & Spa have their own seaside appeal reminiscent of the Greek isles, with wooden walkways and decking, comfortable wicker furniture, umbrellas and potted plants. There's even a Jacuzzi on the rooftop deck. With its unhindered views of the beaches of Paternoster, it's the perfect spot to enjoy sundowners or a midnight dip. A charming garden courtyard – complete with antique birdcages, wind chimes and pond – surround the swimming pool. If it's a sunny afternoon, the place to be is on the brand new deck: bask in the sun while drinking in the fresh sea air and glorious sea views.  The fishing village and more than seven kilometres of pristine white beaches are just a stroll away.
For more information about the Abalone Pool Villas, please click here.
Pet-friendly policy and notice
Please take note that Abalone House & Spa has two resident house cats; Trixie and Chelsea.  We take every precaution to ensure that these beloved pets do not disturb our guests' stay.  Also note that we do permit small dogs (on a leash) to accompany visitors to our restaurant, however guests are expected to dine on the deck.  Please contact us for further information.
If you yearn for seaside serenity and a luxuriously comfortable place to escape to, Abalone House & Spa is just 90 minutes drive from Cape Town.
Whether you are looking for a quirky hideaway, an intimate conference venue or an elegant place to host a small wedding celebration, you'll go far to beat the five-star charm of Abalone House & Spa.  Situated in the picturesque coastal village of Paternoster on the Cape West Coast, Abalone House makes guests feel pampered and totally at home.
Luxury accommodation in ten suites that caters for every indulgence, decadent decor and four areas to relax, socialise over drinks or savour delightful culinary feasts – what more could you ask for. Abalone House's inviting public areas are filled with beautiful antiques, vibrant colours and quirky decorative finishes.
Healing Earth Spa
Abalone House's Healing Earth Spa offers unique signature treatments available exclusively to guests with a menu that is a  first for Africa.  Read more about the Healing Earth Spa under the SPA tab.
What makes Abalone House special?
Accommodation in one of ten sumptuous suites, some with sea views or private relaxing spaces.
Socialise and swop tall stories around the oversized fireplace in the African Lounge.
Enjoy a cocktail, glass of red or a tumbler of one of the top single malt whiskies and brandies on offer in the new bar at Reuben's Restaurant.
Languish over breakfast, lunch or afternoon tea in the sun-splashed Reuben's Restaurant.
Indulge in a decadent dinner in the Reuben's Restaurant with its high backed velvet chairs and crystal chandeliers.
Bask in the sun while drinking in the fresh sea air and glorious sea views from the new deck leading off Reuben's at Abalone House.
Cool off in the elegant plunge pool or take it easy in the sunny sheltered garden courtyard.
Spoil yourself with a pampering treatment at the Healing Earth Spa.
Enjoy a glass of French champagne amid Jacuzzi bubbles on the wooden roof deck overlooking the sea.
Peruse the books and DVD's in the well-stocked library that doubles as a small conference room.
Abalone House & Spa is also eco-friendly wherever possible. That means we use solar power to heat water, recycle all kitchen refuse and keep water to a minimum. Abalone House & Spa grows its own herbs.
For more information about the Abalone Pool Villas, please click here.
Abalone House & Spa in the seaside village of Paternoster on the Cape West Coast boasts ten luxury ground and first-floor suites built around a tranquil sheltered garden courtyard.
All the ground floor suites have direct access to the elegant pool set in the courtyard. In line with international trends for small boutique guesthouses, visitors to Abalone House are able to choose from three different types of suites, all comfortable and superbly appointed. At Abalone House, we have taken pampering to a new intensity by embellishing our suites with every conceivable convenience to ensure your comfort and enjoyment. Experience our unsurpassed attention to detail in the many thoughtful touches, from extra-length beds and deluxe pillows, to fluffy mohair blankets and under floor heating.
Guests may select from the following types of accommodation:
Standard Superior: These five rooms are situated on both the ground and first floor. They do not have sea views.
Luxury Superior: Situated on both the ground and first floor, these four suites have private balconies or garden patios. Some have limited sea views.
Superior Sea View Suite: This magnificent suite is situated on the first floor and has its own private patio with spectacular full views of the sea.
Other in-room features that enhance all the air-conditioned suites include:
Extra length King sized or twin beds with white cotton linen.
En-suite bathrooms with bath, shower, under tile heating and heated towel rails.
A fully stocked bar fridge and top of the range Italian coffee machine.
Flat screen TV, iPod docking station, CD and DVD player make lazing in the privacy of your suite a pleasure.
Built-in electronic safes.
In addition to the comfortable communal spaces, guests to Abalone House & Spa can enjoy the peaceful outdoor courtyard and the roof deck with Jacuzzi offering magnificent ocean views.
For more information about the Abalone Pool Villas, please click here.
Child Policy: Regrettably we do not allow children under the age of 12. 
Located at 3 Kriedoring Street, Paternoster, 7381
GPS Coordinates:
Latitude: -32.81111666666666;
Longtitude: 17.885052777777776
S32° 48'40,00
E17° 53,06,00
Directions:
From Cape Town:  Travel north on the R27, turn left at the Vredenburg turn-off and travel through Vredenburg to Paternoster. The entire trip is ± 140km.
From Cape Town International Airport:  Travel towards Cape Town on the N2, take the N7 – Malmesbury/ Goodwood turnoff (Vanguard Drive) and turn right towards Malmesbury. Travel north on the N7 and turn left at the Melkbosstrand turn-off. Continue to the R27. Turn right onto the R27 and travel north, past Yzerfontein and Langebaan until you get to the Vredenburg turn-off. Turn left at the Vredenburg turn-off and travel through Vredenburg to Paternoster. The entire trip is ± 155km.
View Larger Map
Activities to do while staying at the Abalone House & Spa.
In Paternoster
Browse in Paternoster's quaint bric a brac shops.
Experience creativity unfolding with a visit to Paternoster's art galleries and pottery studio.
Stroll along eight kilometres of pristine white beach.
Don't miss out on a taste of local culture by sampling some of Paternoster's local specialties such as pickled mussels, sun dried snoek biltong or salty 'bokkoms' (dried harder).
Wait with the seagulls on the sun-bleached boulders for the fishermen's boats to return with their daily catch to the village harbour.
Outdoor adventures
Hike or take a 4×4 route in the nearby pristine natural wilderness of the 263-hectare Cape Columbine Nature Reserve at Tietiesbaai. The reserve, about 5km from Paternoster, has many charming rocky coves along the coastline.
Take a sea kayak on an ocean adventure to view the marine life dolphins, seals and whales that enter the bay in season.
A must-have experience is the magnificent wild flower displays every spring (between August and September/October).
If you're a birding enthusiast, seize the opportunity to view over 200 species in the area, including African penguins, egrets, Cape Cormorants, Arctic terns and endangered black oystercatchers.
Go kite surfing, snorkeling or scuba diving.
Horse riding as well as mountain- and quad biking activities are also available.
Remember to check beforehand as all outdoor activities on the West Coast are always weather dependent.
Day outings
Go on a tour of the neighbouring vineyards on the West Coast Wine Route. Buy a few bottles of select wine to enjoy back at your cottage.
Request a picnic basket and experience Tietiesbaai a few kilometers outside Paternoster (part of the Columbine Nature reserve). This is also a great place to collect handfuls of shells as a reminder of your trip.
Visit South Africa's last remaining manned lighthouse in the Cape Columbine Nature Reserve. Built in 1936, the light from this marine beacon shines 32 nautical miles (60km) out to sea.
Explore the scenic country villages of the Swartland area, known for its undulating wheat fields and farmlands.
Walk among the beautiful indigenous coastal fynbos in the West Coast National Park Walk in Langebaan (about 45km away).
Renowned five-star boutique hotel, Abalone House & Spa has crossed the threshold into the international hospitality arena.
A coveted and highly-acclaimed Reuben's restaurant opened in October 2013, elevating Abalone House & Spa to new heights of luxury, decadence and service. The finest local cuisine is now showcased in an atmosphere of pure relaxation and sensual enjoyment.
Reuben Riffel is a celebrated household name in South Africa and is renowned for his culinary prowess. He chooses the best local ingredients, treats them respectfully and prepares them beautifully to create unique taste sensations. Double-baked snoek soufflé with salted apricots, roasted pork belly with chilli-lime and ginger caramel, malva pudding with buttermilk sherbet and Amarula custard hint at the unique cuisine that awaits diners at Reuben's Abalone House.
"I have always loved Paternoster, since I first visited as a child of 14," says Reuben. "The place still fascinates me and keeps drawing me back. There's a unique atmosphere there that is relaxed and special, so I am delighted to have the opportunity to open a Reuben's restaurant and explore the local ingredients, cook them simply and serve flavoursome food. The menu will be ever changing, though we will certainly keep the signature dishes."
What we offer:
Breakfast, lunch and afternoon tea are served in Reuben's Restaurant.
The vibey Bar is ideal for socialising over cocktails, wine, French champagne or one of the single malt whiskies and brandies on offer.
The elegant Reuben's Restaurant is open for lunch and dinner to  both Abalone House & Spa residents and members of the public, but because it is such a popular venue, make a reservation beforehand to enjoy this sumptuous cuisine!
If it's a sunny afternoon, the place to be is on the brand new deck: bask in the late afternoon sun while drinking in the fresh sea air and glorious sea views.
If privacy tops your menu, you can always opt to enjoy a light lunch and cocktails if your suite at Abalone House & Spa has its own private balcony or patio.
Brandy at Reuben's Abalone House
The West Coast and brandy are not exactly unacquainted; in fact, they go together like Paternoster and crayfish. What the West Coast hasn't experienced to any significant extent, however, is a combination of fine brandy, local food and sumptuous living. And who better to present this glorious lifestyle fusion than five-star Paternoster boutique hotel Abalone House and Spa, celebrity chef Reuben Riffel and the South African Brandy Foundation?
The three partners launched a food and brandy pairing at Reuben's Abalone House as well as a range of brandy-inspired cocktails on April 14 2015. Featured cocktails include the Bojito, Brandle, Brandy Bull, Brandy in the Bos and Franklin, and will be based on some of South Africa's top-ranked popular and artisanal potstill brandies.
Please note although Abalone House does not allow children under 12, we do cater to children in the restaurant strictly during lunch service. Unfortunately we do not permit children during dinner service.
Elegant simplicity is also found in the Healing Earth Spa at Abalone House, which offers African inspired therapies and products in four calm treatment rooms – one customized for couples. This premium organic spa brand believes in ancient African traditions of healing and energy to bring about both health and relaxation. Founder Elisabeth Brandt says: "We have a nurturing, conscious approach to beauty based upon love for oneself, one's fellow human beings and the earth we live on."
Abalone House's Healing Earth Spa offers unique signature treatments available exclusively to guests with a menu that is a  first for Africa.
The unique Healing Earth products include the Earth Soul range, which uses indigenous ingredients such as Marula and Kalahari Melon, and the Pinotage Grape range – a vinotherapy range with powerful anti-oxidant qualities that is also thoroughly South African.  An enticing menu of face and body treatments is available to guests, and the beautifully soothing surroundings will ensure a deeply enjoyable experience.
You can reach the spa directly by calling 082 920 5248, or alternatively call our Front Desk on 022 752 2044 and ask to be put through to the spa.
Download our Spa packages menu here.
2016 WORLD LUXURY SPA AWARD
The Healing Earth Spa at Abalone House has been awarded the 2016 World Luxury Spa Award, and was named the continent winner in the category Luxury Boutique Spa at the prestigious awards ceremony in Switzerland in June 2016. The World Luxury Spa Awards gives recognition and thanks to the Luxury Spa Industry. Setting benchmarks in quality, innovation and service for spas around the globe. Established as the world's leading Awards initiative for Luxury Spas, The World Luxury Spa Awards sets the spotlight on our spas, attracting the attention of global spa-goers and industry experts. Awards are presented to luxury spas in 14 different categories on a country and global basis.
The Healing Earth brand already boasts a selection of awards, being voted as one of the Top 20 Spa's in the world by Conde Nast Traveler in 2002. It was also named by the Conde Nast Magazine as South Africa's most successful spa, called the most innovative concept by Spa business magazine and received many local awards from the likes of Elle, Fair Lady and various South African business magazines. Healing Earth currently supplies numerous spas throughout Africa as well as Maldives and EU countries.
HIGH PERFORMANCE FACIAL CARE RANGE
Abalone House & Spa is thrilled to announce the new Healing Earth "Big 5" collection of High Performance facial care products, which have been researched and developed by top experts in the industry to express exceptional results.
The exciting range includes:
• A firming and rejuvenating Tri-Enzyme Peptide Polish
• A preparing and conditioning Tri-Enzyme Peptide Toner
• A Tri-Enzyme Peptide Mask for the reduction of skin imperfections
• A silky, gel-like Tri-Enzyme Peptide Serum to further reduce the visible signs of ageing
Because the Healing Earth philosophy has always been that one should never deplete the skin (by way of powerful active ingredients) without replenishing and repairing it back to its natural health, the product line-up also includes two powerful post-active-ingredient replenishing products (to be applied after the High Performance range):
• A soothing and protecting aloe vera Active Replenish Gel (day)
• A deeply replenishing African Potato Balm (night)
The result of over two years of innovative research into the techniques of delivery of active ingredients to deeper levels of the epidermis, the unique and patented High Performance products use powerful enzyme technology to gently dissolve the intercellular communication between epidermal layers, allowing for deeper penetration of the product and the reconditioning of the skin without compromising its barrier function with powerful peptides.
The active ingredients are drawn from three equally important fields: high-tech industry-approved technologies (such as pentapeptide 4 and a cocktail of high-dosage anti-ageing components including vitamin C, vitamin E, matrixyl, cranberry extact and more); the traditional wisdom of African healing (kigelia Africana, papaya enzyme, green tea oil and the like); and universal holistic tools (such as neem, moringa, lavender, rosehip and neroli oils, to name a few).
While the Healing Earth High Performance products are available for at-home use, the results-driven anti-ageing facial protocol is a unique professional spa offering. It is best that the client is prescribed the products by a trained therapist after a 60- or 90-minute professional High Performance facial immersion, which may be enjoyed at the Abalone House retreat.
Abalone House & Spa is the ideal setting for small conferences, executive breakaways and teambuilding workshops.
Situated 90 minutes from Cape Town – in the charming West Coast fishing village of Paternoster – the owners of this opulent five-star Guesthouse have geared the establishment to enhance every aspect of your small conference or teambuilding get- together. From superb accommodation in ten magnificent suites, to extravagant dining and quality conference facilities in a plush boardroom, Abalone House & Spa will offer your guests an indulgent, luxurious stay. The Guesthouse can host between 10-14 guests for conferences depending on venue choice. Additional self-catering accommodation for guests is available in South of Africa's selection of cottages nearby.
Abalone House's plush executive boardroom is a cosy venue offering seating for up to 14 delegates in opulent high back chairs, around a large antique table. Books adorn the walls and thoughtfully selected artwork adds splashes of colour to the cosy venue. Under-floor heating and air conditioning further enhance the comfort of delegates. The boardroom at Abalone House features state of the art media and audiovisual equipment for conferences and workshops, including:
A surround-sound system
White board, overhead projector and electric screen
DSTV with screen
Wireless internet connectivity
In addition, Abalone House has its own small business centre offering additional internet access for guests. The boardroom looks out onto a tranquil courtyard garden where the delegates can relax after finishing off the day's session.
What makes Abalone House different from other conference venues is peaceful West Coast location combined with it unashamedly decadent Bohemian decor. Here, modern furnishings blend easily with thick Persian rugs and antiques and warm hues enhance stone floors. Old silverware and treasured objets d'art find their niche alongside vibrant artwork; feather fringed lamps and crystal chandeliers. Wooden ceilings and oversized fireplaces dominate central areas and dance with warmth in winter.
There is even a rooftop Jacuzzi with a spectacular sea view to unwind after the day's activities, while many of the suites have their own private relaxing spaces. Guests can also cool off in the courtyard pool before enjoying a cocktail in the vibey Bar.
Abalone House & Spa is able to offer special menus for conference delegates, including adding afternoon tea and gourmet dinners to our basic conference packages. In addition, our staff will happily assist in devising a tailor-made conference or workshop package to include special activities such as scuba diving, kayaking, pottery, cooking lessons and other excursions in the area.
E-mail us on conference@southofafrica.co.za to find out how we can make your next small conference or executive workshop be remembered long after the event itself!


If you have always dreamed of an intimate beach wedding where you and your guests are treated to a memorable five star experience, the Abalone House Boutique Hotel offers this and much more in a charming seaside setting.
Situated within the charming fishing village of Paternoster on the Cape West Coast, the opulent Abalone House will ensure every aspect of your special day is extravagant, indulgent and unforgettable.
Here you can turn a smaller wedding from a one-day occasion into an intimate weekend celebration with family and friends! Ideal for stylish destination weddings, Abalone House can host between 20-40 guests depending on venue choice. Abalone House boasts ten magnificent luxury suites, designed around a tranquil, central courtyard. Additional self-catering accommodation for guests is available in South of Africa's selection of cottages in Paternoster.
What sets Abalone House apart is its unashamedly decadent Bohemian designer decor. Here, modern furnishings blend easily with antiques and Persian rugs, deep jewel tones enhance stone floors and vibrant artwork while old silverware finds its place alongside crystal chandeliers, objets d'art and feather fringed lamps. Wooden ceilings and huge fireplaces dominate central areas and dance with warmth in winter.
Past Wedding Galleries
Abalone House gives credit to the talented photographers whose images are displayed in the gallery above. Below are links to their websites with extensive galleries of each glamorous affair.
• Elizabeth & Riaan – Photographs by Expressions
• Meghan & Keith – Photographs by Dewald Kirsten
• Sandra & Wouther – Photographs by Herman Agenbag
Venues
Wedding couples have the choice of selecting three different venues to celebrate their wedding ceremony and reception at Abalone House. All these options offer outstanding opportunities to capture beautiful photographic images:
• The exquisite white beaches of Paternoster are just a few minutes' walk from Abalone House and form the ideal background for a romantic outdoor beachside wedding next to the Atlantic Ocean.
• The Reuben's Restaurant with its opulent furnishings, rich colours and crystal chandeliers can seat between 20-40 guests.
• The tranquil garden courtyard with potted plants and a pool offers a sheltered space for your wedding celebration.
Summer is the ideal time to plan a beach wedding, especially during the warm months of February, March and April. With its Mediterranean climate, the Cape West Coast does not often have rain in summer, as the days are dry and hot.
When booking your wedding at Abalone House, we shall pamper and spoil the lucky couple from the moment they arrive! Since we want to celebrate the occasion with you, you'll enjoy a complimentary first wedding night in our Superior Sea View suite, with your own private balcony and breathtaking sea views. *
Guest comfort always tops the list at Abalone House, but for the wedding couple, we'll take the pampering even further with gorgeous champagne, chocolates and other homely luxuries. Abalone House even has a rooftop Jacuzzi overlooking the sea, where your wedding guests can relax, or the VIP couple can enjoy romantic cocktail sundowners for two.
The Executive Chef at Abalone House will gladly discuss mouth-watering menu options to enhance the day, while our team of professionals can assist with arranging a wedding ceremony on the beach, or advise on the myriad other arrangements.
Wedding guests will also be eligible for a discounted accommodation rate in both Abalone House and South of Africa's self-catering cottages.
E-mail us at weddings@abalonehouse.co.za to discuss how we can make your day exceptional.
Why choose Abalone House for your wedding?
• Just 90 minutes from Cape Town in the quaint West Coast fishing village of Paternoster, Abalone House is perfect for a smaller destination wedding.
• This welcoming Boutique Hotel has loads of ambience to enhance an intimate wedding of between 20-40 people.
• Ten superb suites with additional accommodation for guests in the nearby selection of South of Africa self-catering cottages.
• Striking backdrops, artwork and stylish interiors ensure a truly memorable wedding album.
• The opulently furnished Reuben's Restaurant is a luxurious reception venue for 20-40 people.
• Our rooftop Jacuzzi offers another relaxing space for the romantic honeymoon couple to enjoy cocktails or French champagne.
• Exquisite chef-inspired cuisine, using the best local fresh produce to create dishes and delight your guests.
* Please note that the Complimentary Night for the Wedding Couple is subject to the entire Abalone House booked for your weddings. Terms and Conditions apply.
Abalone House Winter Special
This year, Abalone House & Spa, situated in the picture-perfect fisherman's village of Paternoster, have created a fantastic winter special where visitors to this boutique hotel will be pampered from start to finish: accommodation, meals and a Healing Earth product voucher are all included. The 2-Night Stay at Abalone House & … See more >
Contact Us
Tel: 022 752 2044
or 087 820 5999
Contact Us