Make Contact
Tel:  014 004 0131
or 014 736 2101 (direct)
E-mail: apartments@elephantsprings.co.za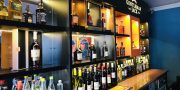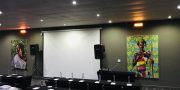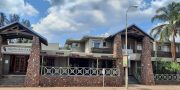 Elephant Springs Apartments, Bela Bela
IMPORTANT NOTICE: The Apartments will be closed in May / June 2022 for renovations. The photographs depicted here represent select views of the new look and will be replaced once the renovation has completed.
Nestled in the foothills of the scenic Waterberg mountain range lies the popular inland tourism town of Bela Bela (previously called Warmbaths) in Limpopo Province.  In this vibrant multi-cultural town is Elephant Springs Apartments, offering value-for-money accommodation in 20 comfy newly renovated self-catering Apartments.
The self-catering Apartments are suitable for large groups that want to gather, socialise and relax in this multi-cultural meeting pot.  The establishment prides itself on its friendly, helpful staff. They help to enhance its character as an accessible and affordable location for corporate clients and travelling business people who use Bela Bela as a convenient base while working in the area. In addition, the next door hotel features a restaurant and bar.
The property derives its name from the fact that elephant carcasses were discovered in the grounds surrounding the hot springs. A time long ago, free-roaming elephants lived and flourished in the scenic area surrounding Bela Bela.
The Apartments are within walking distance of shopping centres and flea markets. It is also directly opposite the city's prime tourist spot – the hot springs at the Forever Resorts.
Please note that guests check in at the Reception situated at the Hotel.
The Elephant Springs has a range of amenities to ensure its guests have a comfortable, convenient stay.
These include:
Front desk services at the Hotel from 6h00 – 22h00
Business services at the Hotel
Complimentary Wi-Fi in each unit
Secure parking for guests.
In addition, the hotel next door offers various entertainment facilities including a bar, restaurant and street-side deck with wooden benches and umbrellas where guests can enjoy meals and drinks.
The Apartments has a swimming pool and individually numbered braai facilities for the convenience of its guests.
With three function venues and conference facilities for up to 250 delegates at the hotel, Elephant Springs is a reasonably priced option for conferences, corporate functions, launches and wedding receptions.  For further information, view the individual WEDDINGS and CONFERENCING categories on the Home Page and choose Elephant Springs Hotel.
All units have a first floor entrance, with 10 of the units offering direct pool access, while the balance presents a pool side balcony.  Pool access for these units is on the side of the building.
Each non-smoking unit sleeps six guests in three bedrooms.  The compact open plan kitchenette is located at the end of a flight of stairs leading from the main entrance.  The main bedroom is situated on this level.  The main bedroom offers a double bed and private en-suite bathroom with toilet and shower.
The unit's other two bedrooms each have two single beds and share the second bathroom on the first level (comprising shower, toilet and washbasin). These rooms are both at the end of a second flight of stairs leading off from the main entrance, with easy access to the shared bathroom. Beds in the second and third bedrooms can be pushed together to form a large double bed.
All of the units with ground floor exits have a private braai on their patio.  All units with a balcony have a private numbered braai unit next to the side of the pool.
Please note that the stairs in the Apartments are steep and that parents with children need to take extra care. The stairs may also not be suitable for adults who are unable to climb steps.
Facilities for guests staying at the Apartments include:
Bed linen supplied
Swimming pool
Playground for children
Guest toilets at the swimming pool
DJ entertainment on weekends
Room Service and daily housekeeping
Smart TV with Netflix, YouTube and ShowMax
Laundry Service (Paid)
Braai facilities (ground floor units have their braai stand on the patio, while balcony units have allocated braai stands next to the pool.)
House Rules & Key Deposit:
• Hi-fi's and music systems are not allowed on the property and will be confiscated.
• Noise levels must be controlled and may not be audible outside your unit so as to not disturb neighbouring guests.
• Poor behaviour that disturbs other guests will not be tolerated. Guests who do not adhere to this request will be requested to leave the premises and forfeit payment.
• No noise at the pool area is allowed after 8pm.
• Cutlery and crockery may not be removed.
• Room Service is available from 8am to 9pm.
• Housekeeping services units daily. This excludes washing of dishes and clothing.
• Towels are replaced after 2 nights' consecutive stay to conserve water.
• No loud music allowed in the parking area.
• No alcohol or food in the pool.
A key deposit of R300 applies for the Apartments and is collected on check in. This will be returned upon departure once your inventory list has been gone through with the relevant duty manager. Any breakages will be charged for accordingly and deducted from the key deposit. Damages exceeding the deposit will still be liable for. Guests are therefore expected to complete their copy of the inventory upon check-in. This applies to both listed items and structural items such as furniture and fittings.
Located at 31 Sutter Road, Bela Bela, Limpopo.
GPS Coordinates:
Latitude: -24.885800000000000
Longitude: 28.293680000000000
Directions:
From Pretoria:  Take the N1 north towards Polokwane. Take the R516 Bela Bela off ramp and turn left towards Bela Bela. At the robot, turn right, cross the bridge and cross the next robot. The Elephant Springs Apartments is in front of you.
From Polokwane:  Take the N1 south towards Gauteng. Take the R516 Bela Bela off ramp and turn right towards Bela Bela. At the robot, turn right, cross the bridge and cross the next robot. The Elephant Springs Apartments is in front of you.
View Larger Map
Guests staying at Elephant Springs Apartments can choose from a diverse range of activities in Bela Bela, Modimolle (formerly Nylstroom) and the surrounding areas of the Waterberg.
In Bela Bela and Modimolle
Elephants Springs is situated in the centre of Bela Bela, a bustling town with plenty of attractions including flea markets, restaurants, tea gardens and shops.
Enjoy delicious homemade farm culinary fare such as ginger beer, lemonade, freshly baked cakes and bread and jams at the various farm stalls / coffee shops in and around Bela Bela.
Visit historical Sites in Bela Bela and Modimolle. These include graves of Christina Pretorius (wife of Voortrekker Andries Pretorius), Strydom House, the Concentration camp and the British Block House erected to protect the railway line during the Anglo-Boer war.
Several Health and Beauty Spas in and around Bela Bela and Modimolle offer wonderfully indulgent pampering spa experiences.
The Hydro (at Forever Resorts in Bela Bela) is famous for its therapeutic hot mineral springs. These geothermal springs gush from the Earth at a rate of 22 000 litres of water per hour with a temperature of 52°C. Here guests can relax with specialised beauty treatments including full body massages, pedicures, manicures and hydrotherapy.
Located next door to the Elephant Springs Hotel in Bela Bela is Hollywood Bets; South Africa's premier betting brand, offering the public an upmarket 'casino inspired' environment where punters can bet in comfort and style, where they can enjoy quality food and a cold beer, and where attention to detail and top-class service is the order of the day.
Scenic and Outdoor adventures
Apart from the activities mentioned below, outdoor and adventure enthusiasts can also enjoy cable water skiing, quad biking, zip lining, clay target shooting, 4×4 trails, boating, hot air ballooning and archery in the Waterberg area.
Walk or cycle in the Nylsvley Nature Reserve, situated in Africa's largest inland floodplain. Open all year round during the day, this 4,000 hectare protected reserve offers a unique biodiversity of plant and animal life, including roan antelope, Tsessebe buck and approximately 370 bird species. During peak floods, the flood plain becomes a critical nesting and feeding site for over 80,000 migratory birds.
Tee off for a game of golf at Koro Creek Golf Estate or visit one of the acclaimed signature golf courses designed by Ernie Els and Gary Player such as Zebula country club.
Go mountain biking on 35km of farm roads at the 3,800ha Lindani game reserve, and then enjoy your own picnic in the reserve. Rated by Tread magazine as one of its top mountain bike single tracks, it is now open for day visitors. Booking is essential.
Learn bass fishing from an expert in a nearby dam in Bela Bela.
Enjoy the Waterberg on horseback as the first pioneers did many years ago. Savannah Horse Trails offers horse riding trails and safaris for experienced riders on trails that combine beautiful wilderness scenery and informative guiding.
Get tactical. Skulls Paintball, situated on the R101 five kilometers from Bela Bela, offers a fun physical activity that demands teamwork and strategy planning.
Boost your adrenaline by abseiling down a steep rocky mountainside at Mabalingwe Nature Reserve.
Take a trail hike on a local game farm or enjoy an outdoor bush picnic.
Day outings
Take a game viewing drive at one of the local reserves and experience unspoilt Africa in an open vehicle through grasslands, rocky ravines and beautiful mountains.
Pack a picnic and visit Doorndraai Dam Nature Reserve at the foot of the scenic Waterberg Mountains approximately 90 minutes drive away.
Meet and interact with orphaned and injured wild animals at Sondela Wildlife Centre, open at specific times throughout the week. Pre-booking is essential.
Experience an eco-drive, cultural tour and braai under African stars south of Bela Bela with Kwalata Culture and Wildlife Tours. They also offer various adventure teambuilding excursions.
Take a walking tour at Bambelela Wildlife Care Farm. During these two-hour guided wildlife walks, you'll learn more about indigenous vervet monkeys.
Watch crocodiles feeding at the Thaba Kwena Crocodile Farm.
Savour an unforgettable nature experience at the De Wildt Shingwedzi Cheetah & Wildlife Breeding Project. The centre offers two-hour tours where visitors get the opportunity to see and learn more about cheetah, wild dogs, caracal, serval, African wildcat and vultures.
Have a thrilling hands-on interaction with elephants. The Adventures with Elephants educational facility is located on a beautiful 300-hectare wildlife reserve 35 kilometres from Bela Bela off the R516. The Hensman family runs the facility, having trained more than 60 elephants since 1988. Learn more about these gentle giants from their friendly experienced handlers as you greet, touch and feed them. You can also go on a Starlight elephant-back safari or even swim with these delightful creatures that enjoy interacting with humans.
Take a walk on the wildlife side at the Dinokeng Game Reserve, which boasts abundant bird- and wildlife including zebra, giraffe, white rhino, warthog, black-backed jackal and the elusive African rock python. You can also see numerous buck species, including kudu, blue wildebeest, eland, waterbuck, impala, blesbuck, duiker, nyala and mountain reedbuck.
View beautiful exotic birds, one of South Africa's largest private primate collections as well as white lions, tigers and cheetahs at Mystic Monkeys and Feathers Wildlife Park near Rust de Winter.
Visit the historical summit of Buyskop, situated approximately four kilometres north of Bela Bela. During the Republican days, the site provided fresh horses to travellers and acted as a halfway house for the mail coach that drove between Pretoria and Polokwane (formerly Pietersburg). Buyskop also contained deposits of sandstone that was used to construct some sections of the Union Buildings in Pretoria.
Contact Us
Tel:  014 004 0131
or 014 736 2101 (direct)
E-mail: apartments@elephantsprings.co.za
Contact Us