Make Contact
Tel:  014 004 0131
or 014 736 2101 (direct)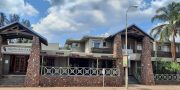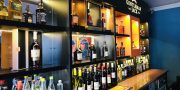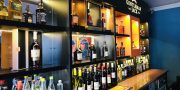 Elephant Springs Hotel, Bela Bela
Nestled in the foothills of the scenic Waterberg mountain range lies the popular inland tourism town of Bela Bela (previously called Warmbaths) in Limpopo Province.
Bela Bela (derived from Tswana and loosely translated as 'boiling-boiling') is less than an hour from Pretoria (Gauteng) and is best known for its world-renowned hot springs at the Forever Resorts. These 52°C hot mineral springs – that gush out of the Earth at a rate of 22 000 litres of water per hour – are renowned for their healing therapeutic properties.
With its warm winters and mild climate year round, Bela Bela is increasingly becoming a favoured weekend or few-nights-away destination for people that don't want to travel too far to enjoy time out in the Waterberg.
The malaria-free Waterberg area boasts an abundance of plants and indigenous trees, prolific birdlife and free roving game. Here, nature and adventure enthusiasts can experience hiking, game viewing and numerous other outdoor activities.
A characteristic feature of the area is the imposing Kranskop Mountain, a natural beacon rising above the surrounding landscape. It lies next to the N1 Highway that runs between Pretoria and Polokwane en route to the Kruger National Park.
In the vibrant multi-cultural town of Bela Bela is Elephant Springs Hotel, offering value-for-money accommodation in 54 air-conditioned rooms, each with en suite bathroom.
The hotel derives its name from the fact that elephant carcasses were discovered in the grounds surrounding the hot springs. A time long ago, free-roaming elephants lived and flourished in the scenic area surrounding Bela Bela.
The Elephant Springs Hotel is within walking distance of shopping centres and flea markets. It is also directly opposite the city's prime tourist spot – the hot springs at the Forever Resorts.
The hotel prides itself on its friendly, helpful staff. They help to enhance its character as an accessible and affordable location for corporate clients and travelling business people who use Bela Bela as a convenient base while working in the area. In addition, the hotel features a restaurant, ladies bar and a swimming pool for the exclusive use of hotel guests.
With three function venues and conference facilities for up to 250 delegates, Elephant Springs is a reasonably priced option for conferences, corporate functions, launches and wedding receptions.
Self-catering Apartments
The hotel is situated next to the Elephant Springs Apartments, which offers self-catering six-sleeper  units suitable for large groups that want to gather, socialise and relax in this multi-cultural meeting pot.  For more information on the Elephant Springs Apartments, please click here.
IMPORTANT NOTICE: The Apartments will be closed in May / June 2022 for renovations. We apologize for any inconvenience this may cause.
Elephant Springs Hotel has a range of amenities to ensure its guests have a comfortable, convenient stay.
These include:
Front desk services from 6am-10pm
Business services
Complimentary Wi-Fi in the main building (there is no reception in hotel rooms / apartments)
Secure parking for guests.
In addition, the hotel offers various entertainment facilities including a bar, restaurant and street-side deck with wooden benches and umbrellas where guests can enjoy meals and drinks.
The hotel has a swimming pool for the convenience of its guests.
Guests of Elephant Springs can choose between Double, Twin, Pool Facing and Family Hotel Rooms.
Rooms are non-smoking.  Rooms are located on the ground or first floor, depending on room type selection. All the rooms in this child-friendly hotel are air-conditioned. The comfortably furnished bedrooms have en-suite bathrooms with shower, basin and toilet, while 3 of the Family Rooms have a bath/shower combo.
Double or Twin Hotel Room
These standard hotel rooms comprise one double bed or two single beds with en suite bathroom (bath or bath/shower combo). These air-conditioned rooms are located on the ground floor as Double Rooms and as Twin Rooms on the first floor.  Each room has a coffee station and TV with select DSTV channels.
Pool Facing Hotel Room
The standard Pool Facing Hotel Rooms are located on the ground floor of the establishment.  They comprise of one double bed and en-suite bathroom with bath or bath/shower combo. This roomtype also features a flatscreen TV with select DSTV channels and a coffee station. These rooms offer direct access to the swimming pool and have pool side glass sliding doors leading onto the hotel courtyard and sparkling pool.
Family Hotel Rooms
Family Hotel Rooms on the ground floor comprises of two bedrooms, each with two single beds (main room set up as a King-sized bed); while Family Rooms on the first floor has one double bed (main room) and two single beds (second bedroom). The two interleading bedrooms feature a shared en-suite bathroom with bath or bath/shower combo. Note that only the main bedroom has a door. Family rooms have a coffee station and TV select DSTV channels.
Facilities for Hotel guests include:
• Tea and coffee making facilities
• Bed linen and towels supplied
• Swimming pool
• Room service and daily room servicing
• TV with select DSTV channels
• Telephone
• Laundry service
• Wake up call service
• Writing desk
Please note that Wi-Fi reception is not available in all hotel rooms, but at the main hotel building and public areas.
Located at 31 Sutter Road, Bela Bela, Limpopo.
GPS Coordinates:
Latitude: -24.885800000000000
Longitude: 28.293680000000000
Directions:
From Pretoria:  Take the N1 north towards Polokwane. Take the R516 Bela Bela off ramp and turn left towards Bela Bela. At the robot, turn right, cross the bridge and cross the next robot. The Elephant Springs Hotel is in front of you.
From Polokwane:  Take the N1 south towards Gauteng. Take the R516 Bela Bela off ramp and turn right towards Bela Bela. At the robot, turn right, cross the bridge and cross the next robot. The Elephant Springs Hotel is in front of you.
View Larger Map
Guests staying at Elephant Springs Hotel can choose from a diverse range of activities in Bela Bela, Modimolle (formerly Nylstroom) and the surrounding areas of the Waterberg.
In Bela Bela and Modimolle
Elephants Springs is situated in the centre of Bela Bela, a bustling town with plenty of attractions including flea markets, restaurants, tea gardens and shops.
Enjoy delicious homemade farm culinary fare such as ginger beer, lemonade, freshly baked cakes and bread and jams at the various farm stalls / coffee shops in and around Bela Bela.
Visit historical Sites in Bela Bela and Modimolle. These include graves of Christina Pretorius (wife of Voortrekker Andries Pretorius), Strydom House, the Concentration camp and the British Block House erected to protect the railway line during the Anglo-Boer war.
Several Health and Beauty Spas in and around Bela Bela and Modimolle offer wonderfully indulgent pampering spa experiences.
The Hydro (at Forever Resorts in Bela Bela) is famous for its therapeutic hot mineral springs. These geothermal springs gush from the Earth at a rate of 22 000 litres of water per hour with a temperature of 52°C. Here guests can relax with specialised beauty treatments including full body massages, pedicures, manicures and hydrotherapy.
Located next door to the Elephant Springs Hotel in Bela Bela is Hollywood Bets; South Africa's premier betting brand, offering the public an upmarket 'casino inspired' environment where punters can bet in comfort and style, where they can enjoy quality food and a cold beer, and where attention to detail and top-class service is the order of the day.
Scenic and Outdoor adventures
Apart from the activities mentioned below, outdoor and adventure enthusiasts can also enjoy cable water skiing, quad biking, zip lining, clay target shooting, 4×4 trails, boating, hot air ballooning and archery in the Waterberg area.
Walk or cycle in the Nylsvley Nature Reserve, situated in Africa's largest inland floodplain. Open all year round during the day, this 4,000 hectare protected reserve offers a unique biodiversity of plant and animal life, including roan antelope, Tsessebe buck and approximately 370 bird species. During peak floods, the flood plain becomes a critical nesting and feeding site for over 80,000 migratory birds.
Tee off for a game of golf at Koro Creek Golf Estate or visit one of the acclaimed signature golf courses designed by Ernie Els and Gary Player such as Zebula country club.
Go mountain biking on 35km of farm roads at the 3,800ha Lindani game reserve, and then enjoy your own picnic in the reserve. Rated by Tread magazine as one of its top mountain bike single tracks, it is now open for day visitors. Booking is essential.
Learn bass fishing from an expert in a nearby dam in Bela Bela.
Enjoy the Waterberg on horseback as the first pioneers did many years ago. Savannah Horse Trails offers horse riding trails and safaris for experienced riders on trails that combine beautiful wilderness scenery and informative guiding.
Get tactical. Skulls Paintball, situated on the R101 five kilometers from Bela Bela, offers a fun physical activity that demands teamwork and strategy planning.
Boost your adrenaline by abseiling down a steep rocky mountainside at Mabalingwe Nature Reserve.
Take a trail hike on a local game farm or enjoy an outdoor bush picnic.
Day outings
Take a game viewing drive at one of the local reserves and experience unspoilt Africa in an open vehicle through grasslands, rocky ravines and beautiful mountains.
Pack a picnic and visit Doorndraai Dam Nature Reserve at the foot of the scenic Waterberg Mountains approximately 90 minutes drive away.
Meet and interact with orphaned and injured wild animals at Sondela Wildlife Centre, open at specific times throughout the week. Pre-booking is essential.
Experience an eco-drive, cultural tour and braai under African stars south of Bela Bela with Kwalata Culture and Wildlife Tours. They also offer various adventure teambuilding excursions.
Take a walking tour at Bambelela Wildlife Care Farm. During these two-hour guided wildlife walks, you'll learn more about indigenous vervet monkeys.
Watch crocodiles feeding at the Thaba Kwena Crocodile Farm.
Savour an unforgettable nature experience at the De Wildt Shingwedzi Cheetah & Wildlife Breeding Project. The centre offers two-hour tours where visitors get the opportunity to see and learn more about cheetah, wild dogs, caracal, serval, African wildcat and vultures.
Have a thrilling hands-on interaction with elephants. The Adventures with Elephants educational facility is located on a beautiful 300-hectare wildlife reserve 35 kilometres from Bela Bela off the R516. The Hensman family runs the facility, having trained more than 60 elephants since 1988. Learn more about these gentle giants from their friendly experienced handlers as you greet, touch and feed them. You can also go on a Starlight elephant-back safari or even swim with these delightful creatures that enjoy interacting with humans.
Take a walk on the wildlife side at the Dinokeng Game Reserve, which boasts abundant bird- and wildlife including zebra, giraffe, white rhino, warthog, black-backed jackal and the elusive African rock python. You can also see numerous buck species, including kudu, blue wildebeest, eland, waterbuck, impala, blesbuck, duiker, nyala and mountain reedbuck.
View beautiful exotic birds, one of South Africa's largest private primate collections as well as white lions, tigers and cheetahs at Mystic Monkeys and Feathers Wildlife Park near Rust de Winter.
Visit the historical summit of Buyskop, situated approximately four kilometres north of Bela Bela. During the Republican days, the site provided fresh horses to travellers and acted as a halfway house for the mail coach that drove between Pretoria and Polokwane (formerly Pietersburg). Buyskop also contained deposits of sandstone that was used to construct some sections of the Union Buildings in Pretoria.
Elephant Springs Hotel features a restaurant that serves traditional South African cuisine. It also opens early for breakfast and coffee.
In addition, guests can enjoy light meals in the bar or sip sundowner cocktails after work on the street-side deck.
Outside guests are welcome to utilise the restaurant and bar, but the pools are reserved for hotel guests only.
Elephant Springs is proud to present its newest attraction – the Zoella Spa. With two treatment rooms, each suitable to offer services to couples, this exciting offering will elevate your experience at our Bela Bela-based establishment.
While advance reservations are essential, same day bookings are also possible – subject to availability.
Bookings and queries are exclusively managed by the team of Zoella Spa and Elephant Springs does not accept reservations or attend to queries on their behalf.
For more information, call / WhatsApp 078 828 6841 or e-mail bookings@zoellaspa.co.za for assistance.
Apart from its comfortable accommodation, Elephant Springs boasts three conference and function venues.
These are suitable for a wide range of events including large conferences, cocktail parties, wedding receptions, corporate launches, small exhibitions and business meetings. The Kambaku and Shawu conference rooms can accommodate up to 250 delegates when combined, while the new Mafunyane is an ideal venue to host a small business meeting or workshop.
The hotel offers standard conference facilities including flip chart, projector hire and sound system hire. We are also able to offer special menus for year end functions and parties.
With its convenient location, just one hour's drive north of Gauteng, Elephant Springs in Bela Bela offers affordable wedding venue and menu options.
By combining the Kambaku and Shawu venues, the hotel offers seating for up to 200 guests or 150 guests when a dance floor is required. The large conference venue easily transforms into a wedding hall, complete with red carpet walkway leading up to the altar.
The hotel also features an attractive pool setting to take wedding pictures and a comfortable honeymoon suite for the newlyweds to enjoy their first night as a couple.
Wedding venue options include:
the Shawu, Kambaku and Mafunyane rooms
hotel restaurant and bar area
swimming pool area and patio
With a variety of menus to choose from and affordable accommodation for guests in the hotel or cabanas, you can enjoy your wedding celebration without having to break the bank.
Contact Us
Tel:  014 004 0131
or 014 736 2101 (direct)
Contact Us