< Back
Going Green at Modimolle Funky Stay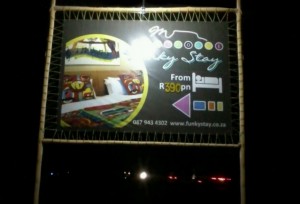 Modimolle Funky Stay is well known for its vibrant colours and unique style.  Our favourite colour though, is green!
The road side sign welcoming guests to Modimolle Funky Stay has received "green treatment" with the installation of a solar panel and LED power saving lights, with an automated day / night switch.
This brilliant initiative is not only a superb way to save on electricity usage (which we highly recommend), but it also helps as a long term investment in our surroundings, and in a very small way, the health of our planet.
Go green!  It's funky, and the right thing to do!