Following our first two blog posts of Blogger Erik Brits, the next stop on his South of Africa Road Trip took him to Bid Huisie in the Karoo.  Here is his experience of our hidden gem in the town of Prince Albert.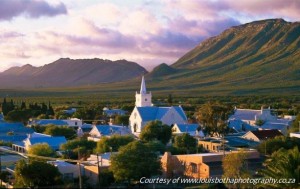 Philosophising in Prince Albert
You often hear the term "a little village in the middle of nowhere" in conversation, and most of us have our own interpretation of this. In your mind's eye do you see the vast open spaces of the Karoo, and suddenly three windmills and a post office appear? Or do you envisage hectares of rugged Zululand bush, opening up suddenly onto a thick-beamed wooden lodge overlooking a waterhole? These, and all sorts of other philosophical questions, were what I reflected on while spending the night in my idea of nothing and nowhere.
You see, Prince Albert might technically be quite easy to get to these days, but cradled in the Swartberg mountains as it is, you certainly wouldn't guess it – especially if your chosen route was the Swartberg Pass (and it should be… it really should be!)
Depending on how recently it has been graded, the pass will be a slow but steady drive, or a bumpy slippery affair, but with the sweeping views, and the often incredible winds at the top, it is guaranteed to feel like an adventure of note. After an hour or so, you will finally come to your first sign of civilisation, and suddenly Prince Albert will pop up. The town itself is wonderfully charming, with a wealth of heritage remaining, and a strong inclination towards the artistic, as most of the Karoo tends to have.
I spent a wonderful night at Bid Huisie, a beautifully preserved small old church – now a two bedroom self catering cottage owned and managed by South of Africa. The cottage was well positioned just off the golden mile (the stretch of the main road where everything happens, quite literally), and captured the old-world charm of the village perfectly. How appropriate, then, to spend an evening in the prayer house reflecting on life, love and everything.
* * *
Stay tuned for the next part of our SOA Road Trip.